Inside Story with Humphrey
with Alan Bardos
Author of Enemies and Allies
---
11 May 2023
Mystery and debate continue to surround many of the events of the First World War. From the assassination of Archduke Franz Ferdinand to the attempt to bribe Turkey out of the war to flushing out a traitor who is undermining the war effort, historical fiction author, Alan Bardos, delivers compelling, high-stakes human-interest stories set against the dramatic backdrop of global conflict.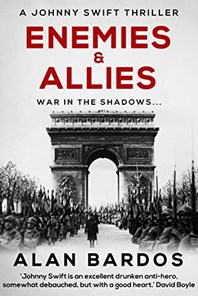 Alan's hero, Johnny Swift, is more of a flawed anti-hero, war-damaged, drunk, womanising but with a good heart, living in an era of extreme danger, flux and uncertainty. Alan describes his first love as one of making up stories and his second of researching historical events and characters. In the Assassins, Swift infiltrates Balkan revolutionaries who sparked the First World War. In The Dardanelles Conspiracy, amid edge-of-the-seat action we learn much about the ill-fated 1915 Gallipoli landings and in Enemies and Allies Swift becomes embroiled in the knife-edge attempts to retain an alliance with France and bring America into the war.
Join Alan Bardos in conversation with Humphrey Hawksley on writing fiction and all elements of the First World War on Goldster Inside Story on Thursday May 11th 2023 at 12.00 London time.