Goldster Conversations: Inside Story with Humphrey
with Meg Hafdahl and Kelly Florence
Author of The Science of Agatha Christie
---
08 December 2023
Gothic media moguls Meg Hafdahl and Kelly Florence have written a guide to the science behind Agatha Christie's stories and her characters Mrs Marple and Hercule Poirot whom we have come to know and love. Through interviews, literary and film analysis, and bone-chilling discoveries, The Science of Agatha Christie uncovers the science behind novels that have become an integral part of the modern murder mystery, answering such questions as:
• What is the science behind the poisons used to commit murders in Agatha Christie's stories?
• When did crime investigation become more common as seen in Murder on the Orient Express?
• Has science made it possible to uncover the truth behind the investigative powers of Hercule Poirot and Miss Marple?
• How did Agatha Christie use isolated settings to best explore the psychology of her characters?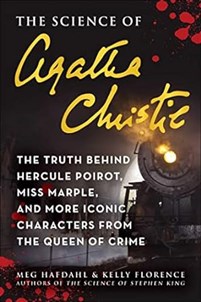 Meg and Kelly are no novices when it comes to crime fiction and science. Their earlier books include The Science of Stephen King, The Science of Women in Horror; The Science of Serial Killers; The Science of Witchcraft and The Science of Monsters. They also co-host a podcast called Horror Rewind. Hear about the real-life angles that capture Hollywood's fascination and about the psychology and science that make crime and horror tick. Join Meg and Kelly in conversation with Humphrey Hawksley at 12.00 London time on Inside Story Friday December 8th 2023