Evidence-based Activity for Healthy Ageing
Every day at Goldster, we ask "What is the evidence?" In other words, what is the evidence that underpins the types of activities offered on Goldster to promote healthy ageing which is defined by the World Health Organization as "the process of developing and maintaining the functional ability that enables wellbeing in older age". What is clear from the research evidence is that healthy ageing requires a multifaceted approach which is why we look at factors to promote healthy ageing from the physical, cognitive and emotional wellbeing perspectives, or Body, Mind and Soul. 
Our Approach to Evidence
We take a scientific, systematic and rational approach to finding, assessing, mapping and reviewing the evidence from the published research literature.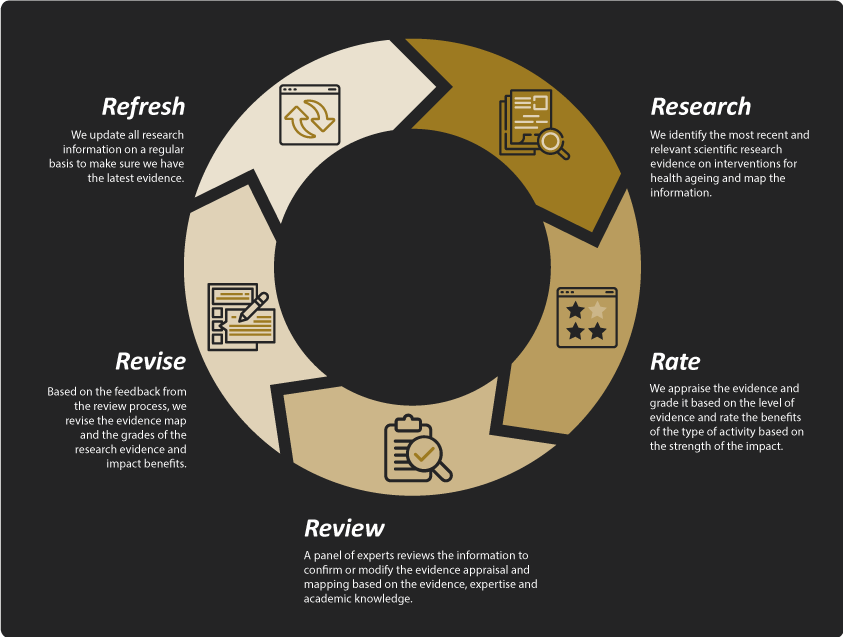 Our Geek Notes
We summarise the research evidence for each type of activity for your benefit at the bottom of each class page and in Geek Notes. The star gradings are our simple point system, based on the available research evidence, that indicate the potential level of effect that activity can have on: physical health (fitness, strength and daily functioning), cognitive health (brain function) and emotional wellbeing (mental health).
Each class has been assigned points relating to potential benefit (or impact) from the activity type based on the underlying research evidence.
If no impact points are listed, it means there is no known benefit for that category.