PURPOSE PASSION GRIT (PPG)
Goldster's new Tuesday event, Purpose Passion Grit (PPG), focuses on the missing ingredient - that urge inside every individual to make something of their own lives; to keep going in the face of adversity, disappointment or tragedy; to embrace good habits and do what's good for themselves and people around them.
COMING UP
TUESDAY 10th MAY 12:00 -13:00
Sarah Hope
REGISTER FOR THE FREE PPG EVENTS Here
On 25th April 2007, Sarah Hope's life was changed forever. She was walking in London with her mother, Elizabeth Panton, and her baby daughter, Pollyanna, when a bus driver steered onto the pavement. Trapped between the bus and a wall, tragically Elizabeth was killed instantly. Sarah suffered life-changing injuries to her leg and Pollyanna lost her right leg below the knee. 
Elizabeth was always kind, giving and caring, renowned for looking after people within her local community. Taking her mother as their inspiration, Sarah and her twin sister Victoria, together with Sarah's husband Christopher, set up, in 2011, a new charity: Elizabeth's Legacy of Hope (ELoH). It was founded to provide prosthetic legs for children in Sierra Leone, Liberia and India. Having experienced how very difficult it was to find the correct prosthetic leg for her own daughter, despite the privilege of the NHS, Sarah found the concept of millions of children in developing countries having no access to prosthetic care so very wrong.
After also looking into what little care is available for road-crash victims in this country, Sarah campaigned with Transport for London (TfL) to set up a much-needed helpline. The Sarah Hope Line is a new incident support line to help victims who have been hurt or bereaved on the London Transport network. 
Sarah also campaigned for the NHS to provide running blades to all child amputees, so they can do more than simply walk. She was successful and, in 2017, Sarah was made a Pride of Britain for this campaign. She was also awarded an MBE in the 2020 New Year Honours. Join Lucinda Hawksley as she talks to Sarah Hope on Tuesday 10th May at 12pm.
WATCH OUR MOST RECENT PPG
DONT MISS A BEAT
See our previous PPG episodes and stay up to date
Tuesday 14th December - Lucinda Hawksley and Rosie Stancer (Audio Only) - Click Here
Tuesday 27th December - Humphrey Hawksley with Lanre Olagoke - Click Here
Tuesday 4th January - Alastair Hignell and Professor Nick Webborn - Click Here
Tuesday 18th January - Rosie Stancer and Col. John Blashford-Snell - Click Here
Tuesday 1st February - Alastair Hignell and Mike Procter - Click Here
Tuesday 8th February - Humphrey Hawksley and Terry Collingsworth - Click Here
Tuesday 15th February - Lucinda Hawksley and Pete Langman - Click Here
Tuesday 22nd February - Rosie Stancer and Arabella Dorman - Click Here
Tuesday 1st March - Alastair Hignell and Baroness Tanni Grey-Thompson - Click Here
Tuesday 8th March - Rosie Stancer and Dr Roz Savage - Click Here
Tuesday 15th March - Lucinda Hawksley and Baiju McCubbins - Click Here
Tuesday 22nd March - Humphrey Hawksley and Ulrich Larsen - Click Here
Tuesday 29th March - Alastair Hignell and Sir Clive Woodward - Click Here
Tuesday 5th April - Rosie Stancer and Mike Laird - Click Here
Tuesday 12th April - Lucinda Hawksley and Sasha Bates - Click Here
Tuesday 19th April - Humphrey Hawksley and Jim Down - Click Here
Tuesday 26th April - Alastair Hignell and Lady Mary Peters - Click Here
OUR PRESENTERS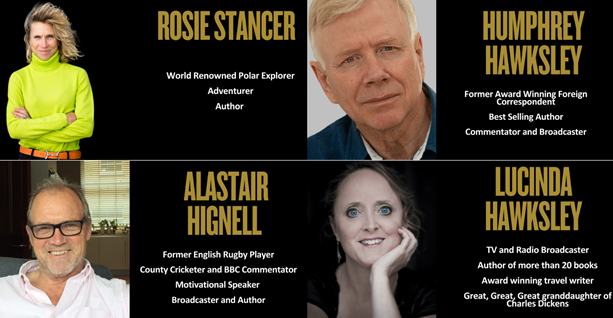 REGISTER FOR THE FREE PPG EVENTS Here