Design with Zandra
with Zandra Rhodes
Monday 29th
Tuesday 30th
Wednesday 1st
Thursday 2nd
Friday 3rd
Saturday 4th
Sunday 5th

Inspiration - Experience
Who is this class for?
Wanting to learn fashion design from the best
You want to create a unique piece of fashion
Find your inner creative self
Feel empowered to create you own style
2021-11-28T13:00:00Z - 2021-11-28T14:00:00Z

Design with Zandra
Dame Zandra Rhodes has been a notorious figurehead of the UK fashion industry. A pioneer of the British and international fashion since the late 60's, Zandra has collaborated with brands such as Valentino, Topshop and Mac Cosmetics. Join Zandra as she teaches you how to create your own fashion peices live in the once in a lifetime experience.
Design with Zandra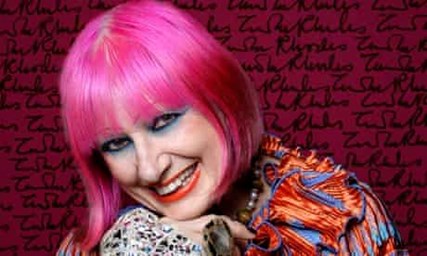 Join Zandra Rhodes, the leading designer and fashion mogul, on Thursday 2 December for the fifth in her 6 part series.
Goldster is proud to present a 6 part series by the renowned fashion designer, Zandra Rhodes. Zandra will outline her successes, high points and learning experiences throughout her prolific career. One of Zandra's passions outside of designing is education, particularly within the arts. Zandra herself has a background in education, teaching textiles and design at various universities in England in the '60s and '70s.
There are two exclusive interviews scheduled with top, international fashion designers which will give us some inside stories from the fashion world. And then, to get us in the spirit of Christmas, Zandra will be making decorations to adorn your home. Don't miss this amazing exclusive experience only available on Goldster.
Class 5  -  2 December
Zandra in conversation with Hilary Alexander
Dates for your diary
Thursday 2nd December 1pm
Thursday 16th December 1pm
Meet the instructor
Zandra Rhodes
Dame Zandra Rhodes has been a notorious figurehead of the UK fashion industry for five decades, celebrating her 50th year in fashion in September 2019 with a retrospective exhibition at the Fashion and Textile Museum – founded by Zandra – entitled Zandra Rhodes: 50 Years of Fabulous and a retrospective book published by Yale. Her notoriety as a print designer combined with an affinity for fine fabrics and colour has resulted in a signature aesthetic that is undeniably unique and continues to stand the test of time. Her initial textile designs were considered too outrageous for traditional British manufacturers to produce, so Rhodes decided to make her own fabrics. She used specially printed textiles as an intrinsic part of the garments she designed. In 1967 Rhodes opened her first store, The Fulham Road Clothes Shop in London, with Sylvia Ayton. In 1969 Rhodes set up her own studio and then took a collection to New York where Diana Vreeland featured it in American Vogue. As her name became more recognized, she began supplying her work to major American department stores, like Neiman Marcus, Bendels, and Saks Fifth Avenue. An eponymous pioneer of the British and international fashion scene since the late 60's, Zandra's career has seen her collaborate with brands such as Valentino, Topshop and Mac Cosmetics. Continuing to collaborate with brands that inspire her, 2021 will see the launch of Zandra Rhodes x IKEA amongst many other exciting partnerships and projects.
Geek Notes
Fashion
Benefits of fashion and clothing, include:
Improving emotional wellbeing
Increasing self-esteem
Increasing confidence
Improving quality of life
Increasing physical activity.
Visual Arts
Benefits of engaging in visual arts include:
Self-expression 
Self-discovery
Benefit relationships
Social cohesion
Sense of achievement
Mental health
Improving wellbeing
Maintaining cognition.
Disclaimer
The information and images in documents are provided for informational, educational and interest use only. The information has not been prepared for your specific requirements, and it is your responsibility to make sure it is appropriate for you. This information does not contain or constitute, and should not be interpreted as, medical or therapeutic advice. If you have any doubts about your health, you should consult your doctor before implementing anything you read about in the documents. You acknowledge and accept that you read the information and undertake any activities discussed therein at your own risk. The information should not be shared with third parties or used for any commercial purposes.