The Inside Story
with Humphrey Hawksley
Monday 11th
Tuesday 12th
Wednesday 13th
Thursday 14th
Friday 15th
Saturday 16th
Sunday 17th

Inspiration - Experience
Who is this class for?
Hear the latest from the literary world
Inside knowledge from world-leading authors
Engaging and stimulating conversations
2021-08-26T11:00:00Z - 2021-09-06T12:00:00Z

The Inside Story
Liz Jensen is the best-selling author of eight novels including the eco-thrillers The Rapture and The Uninvited, and the The Ninth Life of Louis Drax which was adapted by Hollywood. Critics have described Liz as one of today's most innovative writers.
About Liz Jensen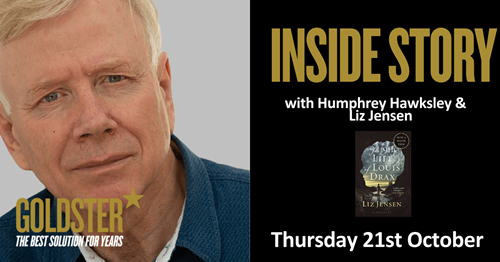 Liz Jensen is the best-selling author of eight novels including the eco-thrillers The Rapture and The
Uninvited, and the The Ninth Life of Louis Drax. Critics have described her as one of today's most
innovative writers whose novels capture the terrain between realism and science fiction and Louis Drax
was adapted by Hollywood into a box-office feature film starring Jamie Dornan.
Much of Liz's work revolves around the environment and impact of climate change. She is a founder
member of Extinction Rebellion's Writers Rebel, a literary movement which includes writers such as
Margaret Drabble, Ben Okri. Amitav Ghosh and Zadie Smith.
Her son, Raph, became a leading figure of Extinction Rebellion under the name of Iggy Fox, planning
and leading key protests in London. In February last year, Raph, suddenly died while filming an
environmental campaign in South Africa. Liz abandoned the latest novel she was writing to work on a
book about grief.
Before becoming a full-time novelist, Liz Jensen was a print and radio journalist in Hong Kong and
Taiwan. She then spent four years as a freelance writer, translator and sculptor in France, and ten as a
BBC producer. Liz lives in Copenhagen where she shares her life with Danish writer Carsten Jensen,
author of the critically-acclaimed We, The Drowned, which she co-translated into English as Emma
Ryder. Her work has been short-listed for the Guardian Fiction Award, nominated three times for the
Women's Fiction prize, adapted for theatre and radio, and translated into twenty languages.
Meet the instructor
Humphrey Hawksley
Humphrey Hawksley has reported on key trends, events, and conflicts from all over the world. Humphrey is the author of the acclaimed 'Future History' series Dragon Strike, Dragon Fire and The Third World War that explores world conflict. He has published four international thrillers, Ceremony of Innocence, Absolute Measures, Red Spirit and Security Breach, together with the non-fiction Democracy Kills: What's so good about the Vote – a tie-in to his TV documentary on the pitfalls of the modern-day path to democracy from dictatorship. His television documentaries include The Curse of Gold and Bitter Sweet examining human rights abuse in global trade; Aid Under Scrutiny on the failures of international development; Old Man Atom that investigates the global nuclear industry; and Danger: Democracy at Work on the risks of bringing Western-style democracy too quickly to some societies. "Make it Happen"
Geek Notes
Benefits of reading, a multifaceted cognitive process, include:
Maintaining cognitive abilities
Reducing cognitive decline
Increasing relaxation
Enhancing emotional wellbeing
Reducing stress
Reducing symptoms of depression
Increasing empathy
Increasing social awareness
Increasing social connectedness.
Disclaimer
The information and images in documents are provided for informational, educational and interest use only. The information has not been prepared for your specific requirements, and it is your responsibility to make sure it is appropriate for you. This information does not contain or constitute, and should not be interpreted as, medical or therapeutic advice. If you have any doubts about your health, you should consult your doctor before implementing anything you read about in the documents. You acknowledge and accept that you read the information and undertake any activities discussed therein at your own risk. The information should not be shared with third parties or used for any commercial purposes.